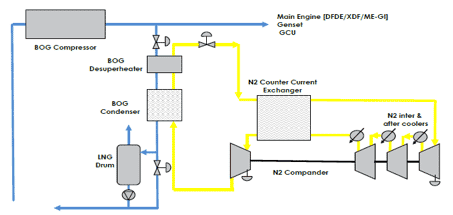 Cryostar built their first marine reliquefaction plants in 2007 for the entire fleet of Q-Max LNG vessels. These giants have by now accumulated a large number of running hours and tremendous experience has been gained, complementing the extensive studies performed for the initial unit.
EcoRel-S is best suited for vessels with low speed 2-stroke engines, or DFDE vessels with 4-stroke propulsion.
Cryostar's patented desuperheater provides maximum system protection, allowing faster plant cooldown from ambient and faster load-up from idle than its competitors.